Secure your dentures with implants...
Many patients elect to replace all or some of their teeth with secure, permanent implants. A variety of modern, implant-based solutions are available, and any of them can dramatically improve your quality of life by enabling you to chew and speak properly, increasing your comfort, and boosting your self-confidence.
Benefits of Implant Dentures
Many implant denture users enjoy the emotional and physical security that comes with their new oral health solution. Because your new teeth are fixed stably in place, you don't need to worry about them moving, loosening, falling out, or causing discomfort from rubbing against you gums.
Implant dentures wearers can typically return to eating a full menu of their preferred foods.
Implant dentures stay in the mouth overnight—not in a glass on your nightstand. So, you can return to brushing your teeth normally, while they stay in your mouth.
While many denture wearers have excellent experiences, some remain embarrassed by the potential for "pop outs" or unsightly, uncomfortable shifting in the mouth. If you find your mind fixed on your dentures while laughing, smiling, or eating—or if you find you're avoiding social situations altogether—you may be a strong candidate for an implant-based solution. Contact The Denture Center today to set up a consultation.
Types of Implant Dentures
Six or more implants are surgically placed directly into the jawbone, then a full arch of fabricated teeth on a supported structure is attached. The implants simulate the roots of your natural teeth and support the prosthesis, which causes chewing and speech to feel more natural and also helps stimulate the jaw bone, reducing bone loss.
Implant supported prosthetics on six or more implants produce the longest-lasting, most aesthetically satisfying solution available. This is the closest one can come to feeling like they once again have a full set of beautiful, natural teeth.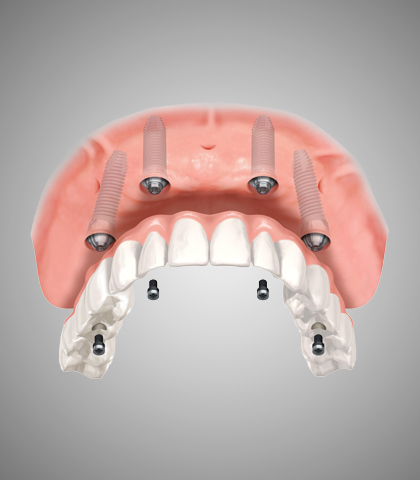 Fixed Implants
(All on 4-6)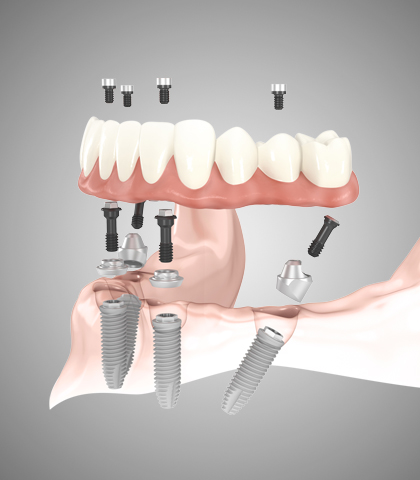 Fixed Implants ("All-on-4" or "All-on-6")
Fixed, implant-supported prosthetics, which include full arches of natural-looking replacement teeth secured on four or more dental implants surgically inserted directly into the jawbone, provide a very durable solution.
The implants not only hold the denture in place, but also simulate the roots of your natural teeth. This causes chewing and speech to feel more natural, helps wearers maintains taste sensation, and also helps stimulate the jawbone, reducing bone loss.
If you still have some remaining original teeth, you can still take advantage of this solution. Your collaborative oral health team can extract your existing teeth, place the appropriate number of implants, and secure your new teeth all in a matter of hours.
Removable Overdentures on Bar
In this case, a milled titanium bar is fixed to the jawbone with four or more implants, providing stronger support for removable dentures. These dentures can still be removed for cleaning while creating stability that eliminates the need for denture adhesives.
Removable Overdentures On Bar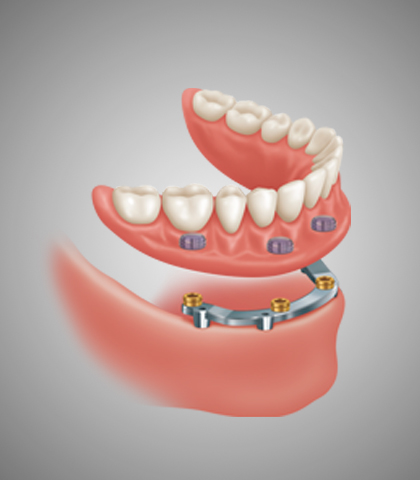 Removable Denture On Implants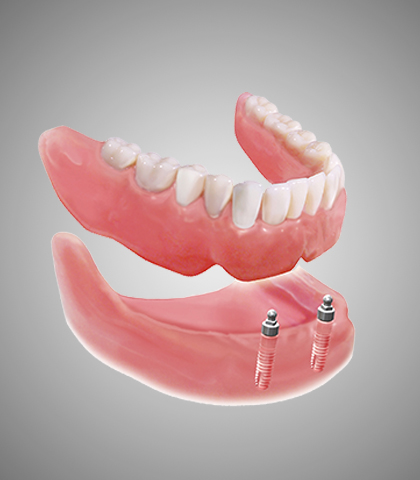 Removable Dentures on Implants
Removable dentures can provide additional stability when new teeth are attached to two or more dental implants. These convenient and cost-effective dentures can still be removed for cleaning while drastically reducing the need for denture adhesives and leaving the sense of taste unaffected.
Because the removable dentures are attached to fixed, secure implants, a wide variety of foods become available as safe options for dining with increased confidence and comfort.